As an Endodontic patient, what should I expect?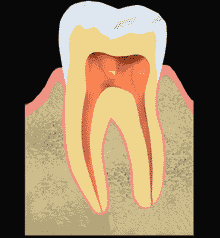 We start with a comprehensive examination to diagnose your dental condition. In consultation with your restorative dentist, we will determine if your tooth is a good candidate for endodontic therapy and explain your treatment options.
The next step is usually non-surgical treatment to eliminate the diseased pulp. The injured pulp is removed and the root canal system is thoroughly cleansed and sealed. This therapy usually involves local anesthesia and may be completed in one or more visits depending on the treatment required. Success for this type of treatment occurs in about 90% of cases. We will inform you as soon as possible if we determine that your tooth is not suitable for treatment or the prognosis changes. Most patients return to their usual routine after treatment.
Generally, non-surgical treatment is all that is needed to save teeth with an injured pulp. Occasionally, this non-surgical procedure will not be sufficient to allow healing and we will recommend microsurgery. Endodontic microsurgery can be used to locate fractures or hidden canals that do not appear on x-rays but still cause pain. Damaged root surfaces and surrounding bone may also be treated with this procedure. The most common microsurgical procedure used to save damaged teeth is an "apicoectomy" or "root-end resection."
What happens when your root canal treatment is completed?
You will need to visit your restorative dentist for a follow-up restoration. A record of your treatment will be forwarded to their office.
Your restorative dentist will decide what type of restoration is needed to protect your tooth. It is unusual for endodontic patients to experience complications after routine endodontic treatment or microsurgery. If a problem does occur, however, we are available to respond at all times.